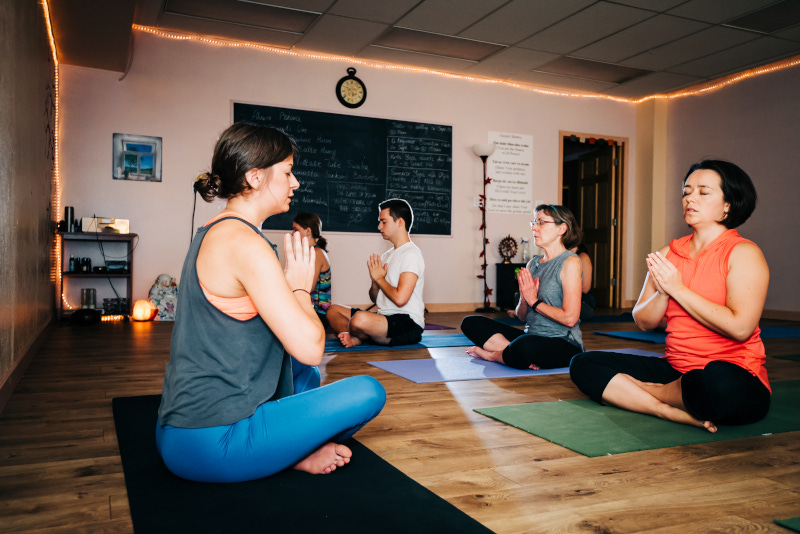 This is a work in progress, but this should be enough to give you an idea of how It's All About You came to be a thing - our auto-comerci-ography.
Published: 26 March 2020
Last Edited: --
Introduction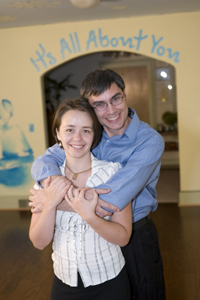 Here is a run down of the history of Tatsiana O'Neill's Yogic Path and the historical path of our yoga studio, It's All About You. This was first written in March 2020 by James O'Neill, her husband, during the Coronavirus (CoVID19) pandemic after we had to close down our studio space, and right at the end of assembling the finishing touches on the Patreon campaign we created to fund evolving our studio to be completely online through:
supporting live streaming our yoga classes
creating yoga and wellness videos for YouTube
shifting both to a more robust live streaming and video management platform
Right at the end of the Patreon creation process before a soft opening of the campaign we needed some content in the campaign so I wanted to put together a post on our history so our amazing potential future patrons would be able to identify with us and to understand our more than a decade of history so they have an idea who they are buying into and supporting.
A much, much short set of writings can be found in our About Us page.
Marriage and Searching for a Fulfilling Path (2005)
Our story starts in a small but yet somewhat cosmopolitan midwestern town...
Following Tatsiana and I getting married in May 2005, she wanted to look for work that was physical and still worked with people, but was also much more rewarding. While in her univiersity in Belarus she was a contemporary dancer who performed with her troupe all over Belarus, so calling to that sort of a creative and expressive flow would be amazing and uplifting for her. Also, with all of her work as a server over the last year, she had developed a pain in her knee which had plagued her for quite some time, making her work and daily life difficult, so having work which would not exacerbate this condition would be great too.
After bouncing ideas back and forth over several days with nothing that was really inspiring for her. I thought of the idea of yoga. However, I had never even heard of a yoga studio in our small town and I had never done yoga before either, so it is not something that would have ever registered on my radar. Not expecting anything, I did a Google search and Wow! there was a studio in our home town - Baraboo Yoga. I had no idea! =O She found the idea intriguing after we talked about it.
Thus Tatsiana's journey into yoga began…
Beginning of Her Yogic Path (2005 - 2008)
Because, at the time (Summer 2005), she was working nights as a server in an upscale restaurant in a tourist area she was able to jump right in and start taking classes that summer during the day and did so with a monthly unlimited package. She loved every moment of it.
Shortly after taking yoga classes at Baraboo Yoga, which was taught by an amazing husband and wife team, Tatsiana as where she could take yoga teacher training and they even recommended a teacher who taught yoga teacher training in the area. She did the research and a little while later (~ April of 2006) she started her yoga teacher training through a monthly (and just over year long training path) with Rasika (Martha Link) who was a Kripalu certified instructor.
Within a few months of her beginning her yoga teacher training she found out that the amazing and inspiring owners and instructors of Baraboo Yoga were moving to Canada and were selling the studio to a new owner. Within a few months the new owner took over which was a shock for every student of the studio.
Although, from September 2006 (near half-way through her teacher training) the new owner had approached Tatsiana and she was given the opportunity to teach yoga classes even before having finished her 200 hour certification! Tatsiana was once a student there and now was a teacher to her student peers. It was a strange, challenging, and nerve-wracking change, but it was a very rewarding transition for her.
In June of 2007 she finally obtained her Kripalu Yoga Instructor Certification (200 hour) and already had almost 10 months of teaching experience. The experience of going through yoga teacher training while teaching classes gave her the unique opportunity to relate and understand her training that most going through the training would not have.
Forging Our Own Path (Aug - Oct 2008)
Saving Baraboo Yoga
Now, we fast-forward to the late summer of 2008 where Tatsiana has completed her 200 hour yoga teacher training and has been teaching yoga at Baraboo Yoga for almost 2 years now. The new owner of Baraboo Yoga has now had about 2 years of molding the studio to her temperament and her way of working while the studio's teachers and the the many long-time students loyal to the studio had started to become a bit disaffected especially having experienced the amazing previous husband-wife team and previous teachers-owners.
With Tatsiana having completed her training and having 2 years of training under her belt, and student morale and studio environment slowly degrading, we saw an opportunity to potentially help save the studio from what we saw as its eventual slow demise. Our students and Baraboo deserved better than that, and so did the studio's amazing and compassionate legacy.
We stepped up and wanted to work with the new owner to try to save the studio. I spent many hours over probably a month coming up with a long term business plan and vision to push the studio into the future and to help correct some of the issues the studio was having. I also creates a presentation to go along with it to present to her as well. In August of 2008 I contacted her and began negotiations to try to partner with her and to work towards saving the studio. To make a long story short she did not want to cooperate with us or our vision. =( We were very saddened by this.
Starting Our Own Studio
After talking about it for a while we felt that the only thing left to do was to create our own yoga studio because we knew we could do better, much better. Hell, we already had a business plan in place and the visioning for a long term future plan for a yoga studio, so why not put it to use.
Name for a New Studio?
We were over at my parent's house talking about the possibility of starting our own yoga studio and had been trying to come up with a good name for our new studio-to-be and we could not come up with anything that just seemed right.
I remember this moment. It has stuck with me after all of these years. We were tossing names back and forth with my parents. My mother was thinking and throwing out some names too as they came to her and then she said something like "How about It's All About You?". Tatsiana and I looked at each other and we knew right there. That was it. That was the name for our future yoga studio. We loved it.
Logo for a New Studio (Sep 2008)
Next, we needed some sort of branding so Tatsiana was talking with her amazingly talented and creative friend Lila from back home in Belarus. And, in September of 2008, after working with her, Lila sent us the files for the new logo for our new yoga-studio-to-be whose iconic form was based on Tatsiana's silhouette. That logo which was created by hand by Lila - art, fonts and all - is with us to this day!
Purchasing Website Domain (Sep 2008)
If we had a business name we would then need a website in this so very connected internet age. I spent some time looking for various incarnations of our business name such as :
www.ItsAllAboutYou.com
www.IAAY.com
... but none of the more convenient ones were available so, on the very last day of September of 2008 I purchased the domain which we use today - www.ItsAllAboutYou-Studio.com.
Google Suite for Domains (Oct 2008)
I was very fortuate to have gotten us into Google's program for domains very early on. On October 1 of 2008 I was able to sign up for their domain tools such as Gmail for domains, Google Docs, and all of that other stuff for our website which is something I am very thankful to have access to even to this day.
The Official Start of It's All About You LLC
With a business plan,a log term vision, a business name, a website domain name, and a logo in hand I set forth to create the business itself to make this official. On October 8 of 2008 I filed the papers to create the LLC for our new studio "It's All About You" and thus the business was born and the start-up work really began!
The Startup Work of Building a Business and Yoga Studio (2008 - 2009)
Leaving Baraboo Yoga (~Oct 2008)
We are not sure about the specifics of the next month or so, but sometime before business creation on October 8 Tatsiana stopped teaching at Baraboo Yoga. If I remember correctly, in talking with the owner about all of this we agreed to just have Tatsiana jsut disappear from schedule and we agreed to a no poaching policy, which makes sense and was the right thing to do. With the no poaching policy we could NOT contact her former students and say "Hey! We are forming our own studio. Leave Baraboo Yoga and follow me!". Doing so would be unethical and pretty mean, which would NOT be the way to start a new yoga studio. Although, this is a small town of only 12,000 people so word would spread quickly once her students realized Tatsiana was gone and even faster once they realized that she was teaching somewhere else, which is essentially what happened.
Certified in Yoga Dance (Dec 2008)
To contunue her love of dance and her love of yoga she was thrilled to find out through the Kripalu center that Yoga Dance was a thing so we rushed to get her certified. She had to take two 1-week long trips to Massachussets to attend the ceritification classes, and in early December of 2008 she became a Certified Kripalu Yoga Dance Instructor via Megha Nancy Buttenheim.
Studio Space #1 - Oak Park Place (Jan 2009)
We needed a space for Tatsiana to teach classes in, but that was going to be difficult because we did not have money to afford a commercial space while we were getting started - commercial property was very expensive.
Fortunately, we have been blessed by amazing students who have been really understanding and really supportive of us over the years and through the various changes and evolutions we have gone through. This was the beginning of that trend.
For the few students this early off who found out that Tatsiana was doing her own thing, we had one that gave us a great tip during this search. They let us know that Oak Park Place which was the assisted living center, newly opened at the time I think, was offering their space for free in order to bring people in to check out their new facility.
So, we went there to check it out. It was fresh, clean, and had elevator access too. In early Jan of 2009 Tatsiana was able to start yoga classes at Oak Park Place rent free, however, we were limited in number of classes that she could teach each day (5) and in which time slots she could teach. Beggars cannot be choosers right? It worked well for us to start and it was an amazing break for use to get our new studio off and running. This also allowed us to accumulate some capital in order to allow us to expand later on.
Studio Website (Jan 2009)
Also, in Jan of 2009 I worked with a graphic designer to design a website using our logo as a starting point. The designer designed it and gave me the images, and then I hand coded it in XHTML1.0 Strict and CSS over the period of about 2 days which is where the website stands to this day.
It really, really, really needs to be updated with a CMS such as Wordpress behind it. I mean it really, really does. =O =)
Growing Our Yoga Studio (2010 - 2012)
Studio Space #2 - In-House Studio (Jul 2010)
Over the previous year and a half of teaching at the newly opened Oak Park Place we went through like 4 or more activities directors who were all great until... we got to one that said they were going to have to charge us for the time that we were using the room to teach our classes which would result in us paying more for room rental than we were making each month, so that was untenable. We knew this time would eventually come. A good thing was too good to last. It was good time to move on, to expand, and to look for a more permanent location for our studio.
We scrambled quickly to try to find a place. I worked downtown on the square so I spent spent some of my lunches looking for places for a more permanent studio space. One day I was walking around the down town just off the square and looking at houses for sale and I saw this one whose price was just lowered. I looked into a window and the living room was huge and it looked big enough to hold classes in to start. We scambled to our realtor and took a quick look, and then made offers/couter offers which were eventually accepted.
To make this work we had to live in the house and to teach classes out of it too. At the time our daughter was like a year and half, so this made things quite complicated, but we needed to make this work. The house had a long living room and dining room connected. Its 2 bedrooms and the kitchen were right off the living room/dining room and the bathroom was through the master bedroom. Not ideal, but... it was ours now.
After a month of moving in and prepping (including ripping our 70's era orangish shag carpeting and laying new laminate) we opened the studio in our living room and dining room. We even had an article in the news paper where we advertised that the first month of classes was going to be completely free to the public. At open we had like 20 classes and 3 other instructors on the schedule too. July was hot and mad crazy! There were even 2 or 3 classes where we had to turn a few people away! =) I think our max capacity at that time was like 16 people California style. It was an amazing start.
Although, our daughter was still taking naps during the day which lasted right into the first set of evening classes. I had to be in our bedroom waiting for the moment she would wake up and then quickly pad through the class to get her and then either scramble outside or to the basement. During the warmer weather we would just go outside. During the cold and rainy weather we would spend that time in our basement with the not-so-clean air.
Here are the articles we were able to save about our grand opening: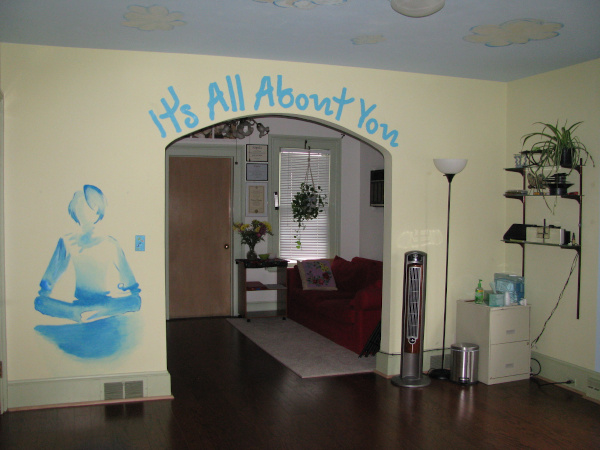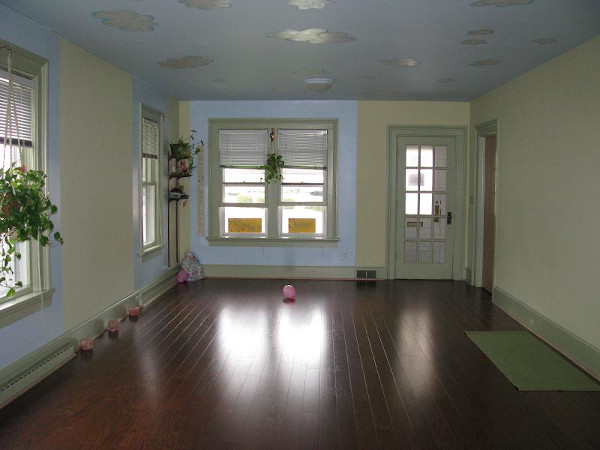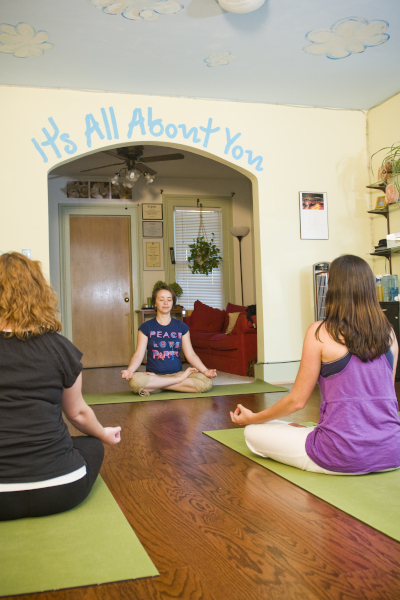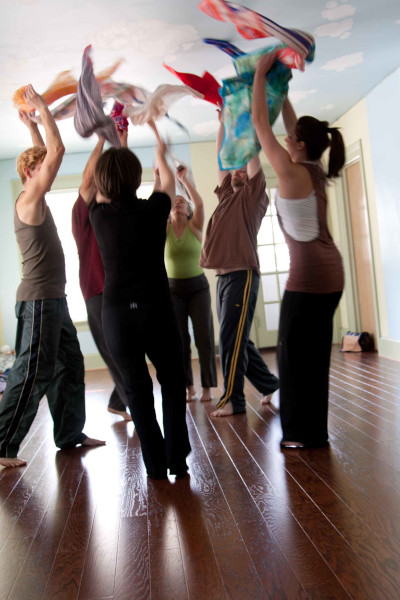 Laughter Yoga Certification (Mar 2011)
She obtained her certification as a Laughter Yoga Leader via Laura Gentry of the Iowa School of Laughter Yoga in March of 2011.
Studio Space #3 - Fritsch Corner Drug Building (Jun 2012)
Now, the previous 2 years was stressful for us because our daughter was sooo young and, of course, the studio was also in our living space which meant that I (as well as our daugther) were sigificantly limited in our off time options because we had classes from 5:00pm until 8:30pm each evening.
However, even with those difficulties, our studio with a centralized location just off the square and a free month of classes had our business growing quickly out of the gate and steadily from there from the few 5 classes per week at Oak Park Place to near 20 per week. Over the months classes were evetually pared down to about 15 per week.
Realizing the difficulties of having the studio in our home, on oaccsion while talking with students some would recommend places for her to teach so that we could claim our home for ourselves.
One day we received another tip from one of our students about a possible location to move our studio to - the Fritsch Corner Drug building. This was a fairly large 2 story building with an elevator and the owners were sort of using some of the second story commercial space as a business incubator so the rent was reasonable and in our price range. This was very exciting!!
We talked with the owners and setup a viewing. The available space was going to work for us, although it was going to take some work to cleanup and make the space useable as a yoga studio. The space was a smidge larger than our space at our home so it was not a huge upgrade space wise, but it did get the studio out of the house so we could relax and not be stressed with our daughter who was now 4 years old.
We opened up in this new location on Jun 1 of 2012 first as a trial to make sure that our Zumba and Yoga Dance classes didn't disrupt the other commerical tenants. Fortunately, it didn't! =)
Evolving into a Mature Yoga Studio (2014 - 2019)
Studio Management Systems Research Began (Sep 2014)
With our business expanding and growing steadily and the piles and piles of student waivers sitting in filing cabinets almost-but-not-quite organized made managing and keeping track of them very, very difficult, plus we were not able to accept credit cards either which is something I really, really wanted to rectify. We were still managing student attendance through a paper based system too which was a low tech and effective solution, but cumbersome in the long run. Being able to manage everything online through a web based interface and not ever have to use paper again was going to be blessing.
I spent several months researching the different studio management options. I created an 11 page survey with 25 rather large questions through Survey Monkey to evalutate 12 different potential solutions and their features. I contacted to the various reps and sent the email to them, and about half filled out the survey, but the Perfect Mind rep out right refused - industry secrets or something like that, which was unfortunate because unless there were surprises that the survey turned up which my research hadn't the race was between Mindbody Online and Perfect Mind. I was honestly hoping Perfect Mind would show up well because I was rooting for the underdog vs the industry juggernaught of Mindbody Online, but that was not to happen. =(
Studio Space #4 - Business Center on the Square (Oct 2014)
This was another one of those amazing moments where one of our long-time students let us know of a potential space to expand to. Tatsiana told me about it and we went to look at it in the middle of September and it was perfect for what we needed for now and in the future. It had a larger studio area, a side space to store props, and an entry area, and... the price was exactly where we needed it to be.
No new studio space would be complete with out a rehab process, right? This rehab process was larger than the previous ones because the space was larger, but also because there were a few wall spanning things we had to strip out. Fortunately, we had the help from a very talented and generous friend who helped us through it all! <3 We had to lay in new flooring which was the largest part of the rehab process. This wholed process of laying floor, stripping things from the walls, cleaning, and painting, et... took a month of long hours to complete. That was our life for the entire month of October.
We finally announced that the official soft opening of the new space was on Nov 1 which was also the week of the midterm election. Not the best timing, but it was great! On November 4 we had an open house to cristen the space and to officially welcome everyone to our new home.
I can't believe we have been in this amazing space for 6 years now. Wow!
Implementing Studio Management Systems (Dec 2015)
Once I had decided on Mindbody Online (MBO) I spent waaaay too long configuring MBO for our classes, teachers, and the way we work. We had to make some changes because we had to shoehorn our way of working into their model which was flexible enough that we did not have to make too many changes, thankfully. Part of this process resulted in us implementing and setting up these 3 systems to make the process as integrated and useful as possible:
Minbody Online - the core studio management system
Waiver King - waiver management system which integrated with Mindbody Online - this is really nice - configure and never have to look at it again
Heal Code - system that integrates with Mindbody Online and allows us to display our class schedule and events as pulled from MBO onto our website; I think MBO bought them out at some point.
In researching and writing this I was shocked at how long ago this process was, and how log I spent working with it, but I am sooo glad that we did this. We set it live upon our students in the middle of December ad we have ever looked back.
Email Management (May 2016)
We had finally outgrown our use of Gmail for domains. It had gotten to the point where I had to use 2 email accounts because you are limited to like 500 addresses per email in order to send emails to everyone on our list, so now was the time to switch because the system, even though I had the process down was... well... more work than it should be. There was a better way and it was far beyond time to do so. I did do some research on different options, but because Mindbody Online had integration options with Constant Contact that I chose to work with that. It has worked well enough.
The newsletter process I go through when we put one together is not a short process. I go through the following for each newsletter:
change the website pages locally to make sure everything is all there
update Mindbody online with any changes
create the newsletter in Constant Contact
get Tatsiana's second set of eyes and her approval that it is all there and correct
publish website changes
send the newsletter
pray we didn't miss something =)
This is not a quick process because there are 3 different areas to update, format, and arrange content in.
500 Hour Training (Feb 2019)
Tatsiana has wanted to do her 500 hour certification for quite a few years now but we have not had the cash or time because it is expensive and it usually takes a large short term time investment neither of which we could afford with businesses and child. However, she has found the amazing Alex Pfeiffer from The Studio who is local to us. She had taken a workshop on chakras from him a few years ago and she fell in love with his knowledge and teaching style. We have been waiting and waiting for him to have a 500 hour monthly program available and finally it has come to pass.
So, she has been working through this program for a year now (starting in February of 2019) online or 1 weekend a month in person at the Madison location and she has been loving it.
Coronavirus (March 2020)
With the Coronavirus (CoVID19) pandemic raging all across the world our yoga studio, as amazing as it is, was not immune to its socioeconomic destruction. Like most places we had to shut down for the safety of our students, our teachers, and the community. Fortunately, at this point we had not had a confirmed case in Sauk County, but there was at least one in Madison.
We had been talking about doing yoga videos for a few years now, but that was going to be a huge undertaking not only in time but also in money too. We needed to purchase cameras and other video hardware, software, and hiring an editor too as well as to find the extra time outside of classes for this process.
With the Coronavirus forcing us to quickly choose to shut we had to quickly scramble to adapt or lose the busiess in its entirety - over a decade of love and passion, and sweat and tears. Here is the process we went through:
First, we asked for donations to the studio to try and make sure we can stay affloat while we shut our studio's doors and attempt to evolve and suvive in a dystopian Coronavirus world. Our students were amazing an generous and we were really touched by their generosity. We are so blessed to have such amazing students.
Second, we shifted all of our classes online though Zoom. By hand I had to create copies of each class in Mindbody Online and added '(online)' to the end of their class names to differentiate online classes from in-studio classes. This would also prepare us for a post-virus world where we can have a mix of both online and in-studio classes. With that process I had to add text to each class' description that these classes will be held online through Zoom.
Third, I created a YouTube account for our studio. Tatsiana then started to record some short classes using her Samsung phone and an app called Filmgora. These were rough because of the older phone and the limitations of the camera, etc, but they were a great start to be able to build awareness and an audience of what whas to come.
Fourth, I took 2 weeks of vacation and stayed up until midnight each night to work on creating a Patreon campaign in order to fund the creation of the videos and to fund the our evolution into a completely online yoga studio. I was sooo tired everyday!! This page is direct result of that 2 weeks of work.
Fifth, I had to research online live streaming and video management platforms which was really hard to do. There were reportedly ones out there, but their marketing and websites were not focused towards recruiting new teachers onto their platform. Most of the articles I found were about people looking for places to get their yoga fix, but not to teach classes. Although, I was fortunate to find one - Namastream - which seemed rather amazing and focused on exactly what we needed, but it was a bit pricey to start, so we would have to wait until we were able to get video production into full swing before starting this piece up.
Sixth, I had to order some descent video and recording equiment. Fortunately, for 5 or so months previously I had been streaming politics on Twitch so I had some idea what we were going to need and at least some idea how to do it. We ordered:
computer - just something adequate
a DSLR camera for recording quality video
ring light
lapel microphone
All through this process there were quite a few newsletters being sent in order to make sure our students knew what was going on and how they were going to get their yoga fix within this anxietey ridden and dystopian world we now found ourselves in.
Our soft release of the Patreon campaign was on 26 March 2020.